Blue Grass Plating Co., LLC offers a number of plating and metal finishing options:

We also offer the following: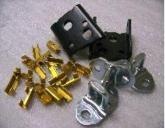 Black Oxide is a process in which the coating is applied by submersing the parts into a boiling salt solution. The coating penetrates into the base material, therefore there is no dimensional change Zinc Phosphate Coating gives base metal surfaces non-conductive, non-metallic properties. Phosphate provides corrosion resistance and is an excellent subsurface for drawing compounds for added corrosion resistance or additional lubricity. Post coatings such as seals and waxes can also be added to phosphate.

Also available: Passivating, Cleaning and Pickling, Hexavalent and Trivalent Chromates - Clear, Yellow, Black, Olive Drab and other protective coatings.


We will be pleased to answer any questions you may have about any of our available services. Contact us via email at sales@bluegrassplating.com or phone us for more information at (859) 623-7903.